Interview with Andrei Muntean: "I want to be a Senior Olympic Champion"
He is the first Youth Olympic Champion in the history of Romanian artistic gymnastics. He has also won Junior European gold on parallel bars in 2010. These two medals have come to complete the other silver and bronze medals he has won throughout his career. You might think we are talking about a gymnast who already has a long career behind him but this is not the case. The gymnast we´ve been talking to is just at the beginning of his career and his name is…. Andrei Vasile Muntean!
(Andrei – 1st place and Youth Olympic Champion on SR)
His first steps towards elite gymnastics were guided by coaches Ciprian Baias and Carmen Rosianu at Sibiu. He then moved to the Junior National team located in Bistrita where he trained until he made the Senior National team and moved to Bucharest. He now trains with the Olympics in mind, his greatest desire being that of also becoming a Senior Olympic Champion. Andrei answered a few questions we prepared for him:
Fangymnastics: Hi Andrei! How are you? Everyone is looking forward to your debut in Senior competition. What are you expectations from 2012?
Andrei: Hi! I´m fine, still in Bucharest. I am looking forward to start competing as well, I hope I won´t let anyone down. My goals for this year are to improve on all apparatus and have good results!
Fangymnastics: 2009 and 2010 were your best competitive years. You medaled at the Junior European Championships, at the European Olympic Youth Festival and had your best results at the Singapore Youth Olympics. What did all these results mean to you?
Andrei: Yes, 2009 and 2010 were my best years. I obtained unexpected results which gave me more confidence and strength to keep going.
Fangymnastics: In the beginning of 2011 you moved from the Junior to the Senior team. What did moving to Bucharest change for you? How did you adjust to having new coaches, new colleagues and living in the capital?
Andrei: It didn't actually feel like changing. I already knew my colleagues and coaches. I adjusted very fast to this new life also because of their help, they have always been supportive. Life in the capital is faster paced but I adapted easily and I like being here.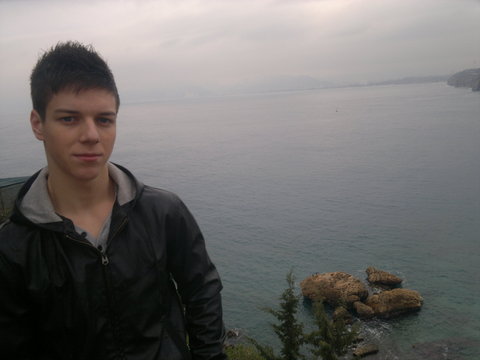 (personal photo)
Fangymnastics: You didn´t compete in any national or international competition in 2011. As far as I know you were injured. Could you tell us what happened and how long you had to stop training?
Andrei: It wasn´t an actual injury. It was an older one which got worse and my coaches thought it was necessary for me to take a break. I don´t remember how long I stopped training but I spent most of the year recovering.
Fangymnastics: Are you healthy now? Does it still bother you? Can you train at your full capacity now?
Andrei: I still feel some pain but I believe any gymnast has this. I'm following a normal training program now.
Fangymnastics: You are about to compete in China (actuallu he competed last weekend in China) and Croatia (at the end of the month) on three apparatus: floor, parallel bars and rings. What do you expect from these competitions?
Andrei: I am currently training for the Chinese competition which will be held on the 7th and 8th of April. I will be doing rings and PB. Then I'll compete in Croatia. Considering these are my first Senior competitions I want to do my best and, if possible, make the first 8 places.
Fangymnastics: The Europeans and the Olympics are next. Do you think you'll make the team? Where do you think you will be able to help?
Andrei: If I stay healthy and train normally, I have a strong chance of making the team. I think I can help on rings and PB, but also on vault and floor.
Fangymnastics: You are about to graduate, right? Your summer will be a busy one. College is next, right? What are your plans from this point of view?
Andrei: Yes, I will graduate this year and I hope I'll pass all the tests. I haven't thought about what college I want to go to so far. I will probably attend a sports one but for the future I am thinking about marketing. We'll see what the future holds…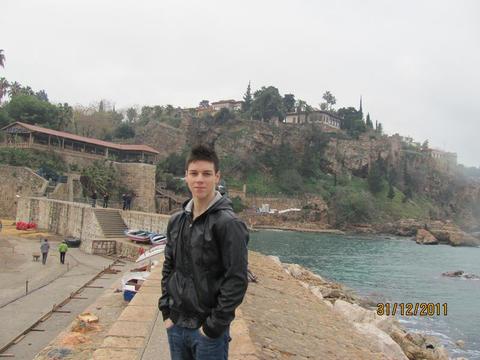 (personal photo)
Fangymnastics: Back to the apparatus. You've had your best results on PB and rings. Are these still your favorites? What are you working on? I suppose your routines have suffered modifications. Tell us a bit about that.
Andrei: Yes, they are still my favorites. I improved in difficulty to up my start values. I still want to improve on that on every apparatus to be able to compete with the best of them.
Fangymnastics: Is the public's support important to you? I see you receive a lot of messages and you actually take time to reply to everyone. How do you see this communication with people that support you?
Andrei: I'm really glad to see that people support me when I compete nationally or internationally. I like communicating with them and of course, I try to make time for everyone.
Andrei Muntean's most important achievements….so far:
2010 YOUTH OLYMPIC GAMES – SINGAPORE:
Gold medal on SR;
Silver medal on PB;
2010 JUNIOR MAG EUROPEAN CHAMPIONSHIPS – BIRMINGHAM:
2009 EUROPEAN YOUTH OLYMPIC FESTIVAL – TAMPERE:
Bronze medal with the Romanian team;
Silver medal in the All Around competition;
Silver medal on FX;
Interview: Fangymnastics
Translation: Romanian Gymnastics Fans