[Review] The 2013 – 2016 Code of Points in WAG
"An artistic performance is one in which the gymnast demonstrates her ability to transform the exercise from a well constructed composition into a performance. In so doing the gymnast must demonstrate creativity, confidence of performance, personal style and perfect technique. This is not What the gymnast performs but How she performs." This seems to be the trend that the FIG wants to impose for the new quadrennium (2013-1016).
We have looked over the new Code of Points and here are our observations on the changes made to the grading system.
General Faults and Penalties
1.00 p penalty from the final score for any spotting assistance (help) from coach (previously there was a smaller deduction of 0.5 for brushing the gymnast while spotting on UB and 1.00 p for help);

A specific deduction for failure to land feet first on landing from element has been added. Will this be added to the 1.00 p for fall? This remains to be clarified.
Requirements for dance elements
The sheep jump will receive 1 DV lower for open ring and/or incorrect ring shape and no DV for no arch and release of head and/or no ring shape. Previously the open ring was deducted as execution fault only.

The change leg ring leap has to have the back leg bent in order to receive the desired DV. In the 2009-2012 Code the back leg position was optional either straight or bent.
VAULT
In case of an empty run, a second run approach is permitted with 1.00 p deduction. Third approach for the same vault will not be permitted.

A new specific vault deduction of 0.5 p, for more than 25 meters run distance, has been added.

Land outside the Corridor deductions have been lowered to:
a) Land or step outside with one food/hand -0.1 p;
b) Land or step outside with two feet/hands -0.3 p;
Calculation formula for final score in apparatus final has become:
(DVT1 + DVT2)2 + 10 – (VT1 execution deductions + VT2 execution deductions)
Applying this formula to the 2012 Olympic champion's vaults from EF, the final score becomes 14.433 whereas her score under current code was 15.191. The new formula favors execution over difficulty.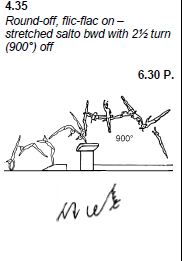 (The Amanar Vault – illustration from the Code)
For the apparatus final the two vaults must be from different groups and with different second flight phase. The 2009-2012 code required vaults that showed a different repulsion phase (take off position from the vaulting table). The new requirements make it possible to choose an Amanar vault and a Zamolodchikova vault, choice that is not permited under 2009-2012 code.
Vaults difficulty changes:
Chusovitina vault = 6.2 (from 6.3);

Tsukahara 21/2 = 6.5 (from 6.7);

Amanar vault =6.3 (from 6.5);

Cheng vault =6.4 (from 6.5);

Round off 180 stretched salto fwd 360 vault =6.0 (from 6.1);

Produnova vault =7.0 (from 7.1);

All fwd pike vaults with 540 twisting have been removed from the Code.;
UNEVEN BARS
A gymnast's second attempt to mount will be permitted with a penalty of 1.00 p. A third attempt will not be permitted.

A close to the bar circle element is no longer a composition requirement for the uneven bars routines.

Different grips requirement has been maintained but the minimum number of required grips is not specified (probably still 2);
Connection value
D+D and D (flight element -same bar or LB to HB) + C (on HB) connection bonuses have been maintained at 0.1 p and 0.2 respectivly. (e.g. D+D stalder 360 + Tkatchev; D+C Shaposhnikova+free hip 180)

D (flight HB to LB) + C connection will receive no CV under the new code. (e.g. Pak + stalder 180)

D+ E connections will receive a 0.2 CV only if both elements have flight (e.g Tkatchev 180 + Jaeger)
Difficulty changes: Shushunova release has been downgraded from G to E.
BALANCE BEAM
A gymnast's second attempt to mount the balance beam will be permitted with a penalty of 1.00 p. A third attempt will not be permitted.

The dismount must be at the opposite end of the BB than the mount or to the side.

The requirement for connection of 2 different dance elements has been changed to accept the leap element in 180 split (cross or side) or straddle position.
Connection Value
All CV formulas for 2 acro flight elements connections have been maintained and one formula for B+D, rebound in fwd direction only (e.g.fwd handspring + front tuck) has been added.
All CV formulas for 3 acro flight elements have been removed. Additionally a series bonus of 0,1 has been introduced to reward acro series of 3 or more elements (including MT and DMT) The series bonus will be added, when applicable to the 2 acro elements CV formulas

Applying the new formulas to a D+B+C series (e.g. aerial walkover + flic-flac+ layout stepout) only a value of 0.1 series bonus will be awarded. A series of C+C+C (e.g front tuck salto from 1 leg+ pike back salto + tuck back) will earn a 0.1 series bonus and 0.2 connection value for 2 C+C connections.

All dance and mixed connections formulas have been kept and two new formulas have been added: D (salto) + A (dance) 0.1 CV (e.g. Onodi + wolf jump) and D+D (mixed connection) 0.2 CV (e.g. free walkover fwd + sheep jump). Later Edit. C+C=0.1p and D+D=0.2p formulas will be applied for mixed as well as dance combinations.
Difficulty changes:
Round-off -flic flac 1/2 walkover fwd =E (from D);

Aerial walkover fwd to cross stand= E (from D);

Salto fwd piked to stand =E (from D);

Round off take off bwd 1/2- tucked salto fwd to stand= G (from F);

Round off- flic flac 270 to cross stand =E (from D);

Wolf jump 540 from cross position =E (from D);

Split ring leap= D (from C);

Flic flac with min 270 before hand support, Kochetkova= E (from D);
FLOOR
Out of bounds penalties have been changed: 0.5 penalty for landing with both feet outside the floor area will become a 0.3 penalty as for stepping OOB with both feet, hands or a body part.

The composition requirement for an acro line of two different saltos connected has been removed.

One lunge after acro line will be permitted. More than one lunge will be penalized with 0.1 p each.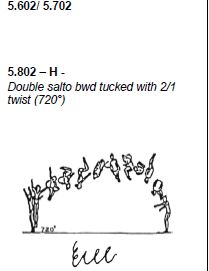 (The Silivas salto – illustration from the Code)
Connection value
A 0.1p CV for indirect B+D combinations has been added. (e.g. whip full twist indirectly connected with double tuck);

A 0.2p CV for D+D indirect connection has been added. (e.g. salto bwd 21/2 twists + double tuck);

All other formulas have been maintained.

The biggest addition is the recognition of pirouettes connections. D+B or B+B (no step) connections will gain 0.1p. Turns may be performed on the same support leg (D+B and B+B) or with step into turn on opposite leg (D+B).
Difficulty changes:
For the first time since 2006, a new difficulty value category has been added – H (0.8 p). The 2 elements that have been awarded H difficulty are the Silivas salto (double twisting double back) and the Chusovitina type salto (full twisting double layout).
Other difficulty changes:
Split jump with 11/2 turn = D (from C);

Split jump with 1/1 turn = C (from B);

Popa with additional ½ = D (from C);

Popa = C (from B);

Cat leap with 2/1 turn = C (from B);

Cat leap with 1/1 turn = B (from A);

Tuck jump 2/1 turn = C (from B);

Tuck jump 1/1 turn = B (from A);

Double salto fwd tuck with ½ twist (Podkopayeva) = F (from E);
The primary objective of this new Code seems to be the encouragement and rewarding of exercises with original structures in which difficulty and execution are perfectly mixed to create a unique performance. Artistic gymnastics is likely to be more appreciated from now on.
Also, at a first look, the Code seems to be a shy attempt to create a balance between difficulty levels of all four apparatuses. The final result will be seen only after the routines will be redesigned to meet the new rules. Vault difficulty will probably be marked at 6.3-6.4 at the most; a balance beam routine with the structure of the most difficult routine performed under 2009-2012 code (Katelyn Ohashi's routine) will be awarded 7.4 points; a floor exercise as the one performed by the Olympic Champion will be awarded 6.5 difficulty (as in London); an uneven bars routine with He Kexin composition will be lowered to 6.8 dificulty and one with Alyia Mustafina's skills and connections will receive a 6.7 D score. Of course, these routines were created under a different Code and it is likely that even higher D scores will be posted by competitive gymnasts. This Code is set to increase the D scores on FX, to slightly lower them on UB and VT and to create a new trend on BB, one based on fluidity and dynamism; all these with the scope of equilibrating the difficulty throughout the apparatuses.It remains to be seen in the following years who will know better to take advantage of this new set of rules.
Translated by Anna, from our Romanian version