Sandra Izbasa: "I would like to compete first of all for myself…regardless the result"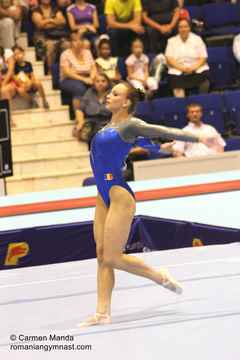 Sandra Izbasa, our two-times Olympic champion, only did floor on Saturday, during the first competition day of the National Gymnastics Championship. She received the highest score in the competition (15.100), the same as Larisa Iordache.
Sandra Izbasa, the floor Olympic champion in Beijing and the vault Olympic champion in London, does not necessarily go for a medal in Antwerp, she considers this competition as a suitable field for retirement, no matter the result. "I am very glad that we could organize this competition at home, it is a good practice before the Worlds in Antwerp. Everything I want is to get there in good health, to adjust well with the floor there. I am not going there thinking that I am going to win a medal, I want to hit my routine as well as I do it at home, nothing more, nothing less. I know I still have to perfect my routine, I still have two weeks for that. I told several times that I would retire, then I came back, every time finding the motivation to continue. I really want to compete in these Worlds, my last Worlds was in 2007 and I miss it. I would like to compete first of all for myself, it is a nice way to retire, regardless the result. I decided this together with my coaches, it was a tough decision, but you never know. I will continue to keep myself in shape, I will continue to go to the gym and do this sport as a hobby, but I am not going to think about Rio. I need a break and I think I deserve it." declared Sandra.
After the women team competition Sandra and Larisa were asked by tens of kids to give autographs and to take pictures with them. "I have got used to this, the same happens also when we go abroad. Maybe there there are even more kids willing to do top sport. Unfortunately I notice that here there are less and less, although I wish there would be many children doing sport in general, not necessarily gymnastics, because the sport contributes in the formation of a person. I am glad that they came and asked for autographs, that they took pictures with me. There is probably a motivation behind this and I wish that they also grow nicely." , Izabasa added.
Here you can watch Sandra's routine from the second day of the competition, where she scored 15.600 points after a great performance, including a new combination of two turns. We really hope she can achieve her goals in Anvers. Good luck, Sandra! #feelinggood
Text: Agerpres
Photo: Carmen Manda (Romanian Gymnast)
Translation: Ioanavol (Fangymnastics)
Video: Ioana D (youtube)